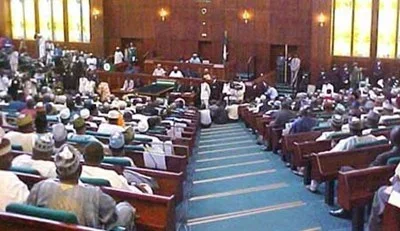 Operatives of Nigeria's State Secret Service, SSS, have sealed the secretariat of the House Committee on Appropriation, following the protracted accusations and allegations between ex Chairman of the Committee Hon. Jibrin Abdulmumin and Speaker Yakubu Dogara and other principal officers of the chamber.
The secretariat serves as offices for the 40-member appropriation committee and its staff.
According to Premium Times, SSS officials stormed the secretariat on Saturday and immediately placed it under lock and key.
The sources said the SSS also sealed Mr. Jibrin's office at Room 1.05 in the New House of Representatives building.
This follows Jibrin's statement on Thursday that Dogara ordered removal of workstation from the Appropriation Committee Secretariat and allegedly attempted to break into his office.
Reports also said Mr. Jibrin visited the SSS Headquarters on Friday to brief the agency about the budget padding scandal. He also called on EFCC and ICPC to commence investigation into the crisis with a view to prosecuting those involved.
GET THE LATEST BREAKING NEWS AND ENTERTAIMENT GIST DIRECTLY ON YOUR PHONE ADD 08086597033 ON WHATSAPP